Spring Return Potentiometers : SAJ2515 - J3R "Rocker Pot"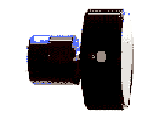 SAJ2515 with "G" round 2 1/4" diameter knob

Handle spring returns to center postion.140 degrees total handle travel.

Single axis , center tapped 5K potentiometer standard
Options : Spring return to one end, mounting bracket , two switches.
Power rating 1 watt. Conductive plastic element for long life.
Available resistance values : XXX= 500 ohms, 1K,2K,5K 10K or 20K ohms.
Available without a knob or handle : SAJ2515-XXX.

J3R- SAKAE ROCKER POT - Spring return to center or side

Spring return to center or Spring return to beginning of travel.
3 or 4 terminals , 10K ohms standard -Conductive plastic element for long life.
Used on camera jib crane.
For more information : J3R ROCKER POTENTIOMETER PAGE>