MIL Style 2RV7 Dual Ganged Single Turn Carbon Element Potentiometer (Series KK )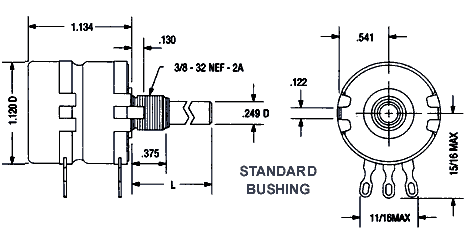 The 2RV7 or series KK potentiometer is well suited for military and commercial applications.
Basically two potentiometers controlled by one shaft. Available with concentric shafts for
adjusting each potentiometer independently.
Also available in 3 gangs. Rated at 2 watts, standard with 1/4" diameter stainless steel shafts and gold plated terminals. Stainless steel shaft and housing.
Easily customized with many options including shaft lengths, resistance values, panel seals
center taps and switches.
Life cycle : 25,000 operations.
Resistance range : 50 ohm to 5 meg ohms
314º Mechanical Rotation
DOWNLOAD: 2RV7 SPEC SHEET
Crosses to Ohmite model CCU.