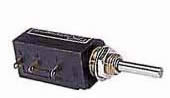 MH12B Miniature Hybrid Element

Potentiometer- 12 mm (1/2") body diameter

Shaft Diameter : (MH12B) 0.125" or (12HP) 3 mm
Available in 10 turns, panel or servo mounting.
Bottom (L) or rear (R) solder lugs
Standard resistance values available :
10 turn: 1K,2K,5K,10K,20K,50K ohms - Lin.: +/-.4%
The MH12B features a high temperature plastic housing and brass plated bushing.
10,000,000 cycle lfe. Power rating for the 10 turn version is 1.0 watts.
Too many choices? Through our experience we have designed pots used in flight simulators,nuclear energy
plants and jet cockpit lighting controls. We can help you make an informed potentiometer decision.