Model LCP8 is our smallest linear motion potentiometer.
10 or 12 mm stroke length. Includes 6" insulated wire leads.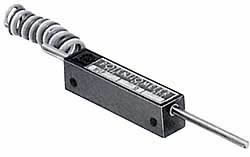 LCP8P-10-xxK Linear Motion
Shaft Styles :(Diameter 2 mm)
T=#2-56 thread, C= Chamfered
P= Plain shaft, S= Spring Return (Internal)
Stroke lengths : 10 mm , 12 mm
(Stroke = distance the shaft moves in and out)
Includes wire leads.

LCP8P-12-xxK Linear Motion
Shown with shaft style : P Plain
Stroke length :12 mm -Includes wire leads
LCP8 Potentiometer Drawing pdf
Popular Part Numbers

LCP8-2539-5K
LCP8CS-10-10K,
LCP8CS-12-10K
LCP8CS-12-50K,
LCP8P-10-10K
LCP8P-10-10K 1%
LCP8P-10-1K
LCP8P-10-20K
LCP8P-10-2K
LCP8P-10-50K
LCP8P-10-5K
LCP8P-12-10K
LCP8P-12-1K
LCP8P-12-1K 1%0
LCP8P-12-2K
LCP8P-12-50K
LCP8S-10-5K

LCP8T-12SB-2K
LCP8P-12-5K
LCP8S-10-10K
LCP8S-10-10K.5%
LCP8S-10-1K
LCP8T-12SB-5K
,LCP8S-10-20K
LCP8S-10-2K
LCP8S-10-50KK
LCP8S-10SB-10K
LCP8S-12-10K
LCP8S-12-10K 1%
LCP8S-12-1K
LCP8S-12-2K
LCP8S-12SB-1K
LCP8S-2985-1K
LCP8S-5-5K

LCP8SC-12-50K
LCP8ST-10-10K
LCP8ST-10-1K
LCP8ST-10-5K
LCP8ST-12-10K
LCP8ST-12-1K
LCP8ST-12-5K
LCP8ST-12SB-50K
LCP8T-10-10K
LCP8T-10-1K
LCP8T-10-5K
LCP8T-10SB-10K
LCP8T-10SB-5K
LCP8T-12-10K
LCP8T-12-1K
LCP8T-12-5K
LCP8T-12SB-1K