Joystick PRO6 : Heavy Duty - 1 Axis (Back & Forward)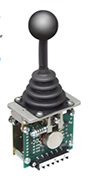 PRO6 Single Axis Controller For Harsh Environments

The ultra-rugged PRO6 features a smooth field adjustable friction brake.
Used where speed must remain constant under continuous shock
and vibration. 20 million cycle life.
The PRO6 also features a positive center detent so the operator can
"feel" the handle center position.
- Rugged 10 mm diameter handle shaft.
- 4" height above the handle.
- Handle has spring return and friction hold options.
- Output : 5K 3 terminal or 10K 4 terminal potentiometer.
Hall effect pot or up to 4 switches.
PRO6 Handles :

Round Ball Handle

G56 Handle

-

Push button, rocker switches & thumbwhels.

Locking Handle

- Lift Collar Lock with fingers to move handle.