Weatherproof Joystick PRO5 : 1 Axis (Back & Forward). Made in USA

NEMA4 : Weather tight (weatherproof) enclosures. Constructed for either indoor or outdoor use to provide a degree of protection against falling dirt, rain, sleet, snow, windblown dust, splashing water, and hose-directed water.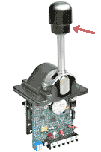 PRO5 Single Axis Controller For Harsh Environments

Cast NEMA 4 Housing - 5.5 " height above the panel
Weatherproof - Cast Housing construction- Gasketing for outdoor use
Handle will spring return to center or friction hold in place.
Available with mechanical lock handle (shown)

LIFT

collar under knob
with fingers to move handle
Output : 5K or 10K CT Potentiometers and or directional switches or 4-20mA.
Designed for outdoor use with plated steel side plates with
self lubricating bearings, hard nickel chromium spring return arms, compression
style return spring and brass gears. Screw terminal block for easy
potentiometer wiring, No soldering necessary.
.
BH with sealed momentary push button

PRO 5 Single Axis Controller For Harsh Environments
Shown with round ball knob handle.
72 degrees total handle travel
Cast Metal Housing construction - Gasketing for outdoor use
Handle will spring return to center or friction hold in place
Potentiometers and or switches
4-20mA output - For throttle control handle will start at one end.

Round Ball

RH with rocker switch and side momentary switch

MI Locking Handle Lift Collar Lock with fingers to move handle.

PRO5-18823, 1 axis, 4-20mA output direction without center dead band. ESS420 4-20mA Amplifier card includes potentiometer. Handle will spring return to center position. BH-11 handle with momentary sealed OTTO push button with enable brand blank top of handle. Shaft length 3.1" NEMA 4 cast housing, weather proof, Orientation right side.

IN STOCK

PRO5-71811, 1 axis, one-10K center tapped (2 watt) potentiometer , 2- 11AMP SPDT micro switches-one switch on either side of the handle center position.
Handle will spring return to center position.

Handle with mechanical interlock lift
collar on shaft to move handle,
Shaft length 5.16 "

IN STOCK

PRO5 Specs pdf