The SG1 provides absolute linear position up to a 10 foot stroke range. The SG1 uses a hybrid precision potentiometer for long life. IP50 standard and IP67 available environmental ratings. For more information call 610-359-1002, fax 610-353-1674 or email. Quick Delivery item..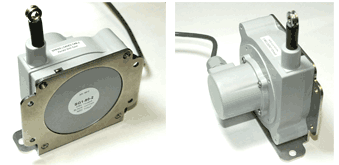 SG1 Low Cost, Compact
Mid-Range String Pot
Potentiometer - Voltage Divider
Full stroke ranges :
SG1-80 = 80" (2032 mm) stroke
SG1-120 = 120" (3048 mm ) stroke
Polycarbonate enclosure.
Hybrid potentiometer element
2 watt power rating
Resistance : 10,000 ohms only.