Industrial Joystick CS3 : 4 or 8 switches and/or Hall Effect - Many variations available.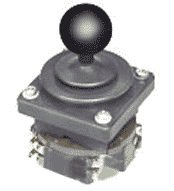 CS3 Compact - Extremely Rugged

The durable housing and center pivot design make this device
resistant to abuse .Ultra tough boot .
Available in 4 switches on two axis, 8 switches on two axis,
plus Hall effect.
Handles : Round ball (shown) , Twist for 3rd axis or sealed
pushbutton.
Hall effect - 7-30 VDC or 4.5 to 5.5 VDC Supply.
Up to 8 directional switches : 11 Amp 125, 250 VAC
Sealed Push button handle 2A 24VDC (Optional)
Handle travel : 2 X 20 degrees
Environmentally sealed mounting and corrosion
resistant components.
Conformal coated electronics to resist moisture.
Available on 1 , 2 or 3 axis configuration.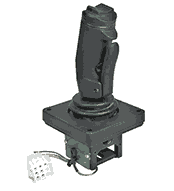 Dead Man Handle and Hall Effect Option

Options : 1,2 or 3 axis. Push Button Switch Handle, Fighter Grip Handle.
Used on fork liftd, bucket trucks, constuction, agricultural, mining etc.
Mechanical Life : 20 million cycles.
Rated IP54 above the panel.
Contacts: 11A 125, 250VAC
Shown with Hall effect - 7-30 VDC or 4.5 to 5.5 VDC and conector.
Fighter Grip Handle with Switches

TH20 Hall Effect Twist Handle
MG27 Push Button Handle
MG13 Twist Handle