Featured Precision Products
Speed Controls, Volume Attenuator - Linear & Audio and Log Tapers
Used in high end audio equipment. Military applications. Power rating up to 2 watts.
Single & Dual ganged available - Panel and shaft seals for panel washing.
RV4, RV5, RV6, RV8 MIL style pots

Made in USA. Shaft turns 140 degrees total travel. Twist knob ,springs back to center.
Bushing mounts through 3/8" panel hole. Removable knob.

Output : Potentiometer, 4-20mA, Switches,.
Rugged Cast Bobyhousing
Available with locking handle, deadman handle, round ball knob, etc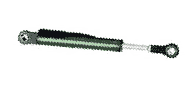 Conductive plastic element for long life. With wire leads.
Stroke lengths (shaft travel) : 12 to 150 mm (0.5" to 6")
Aluminum housing. For industrial control , medical and automotive applications.
Wire wound resistive element - All metal housing - 1,000,000 cycle life
Panel mount- 1/8" dia, shaft- 0.4" body diameter (10 mm)

Wire wound & Long Life Hybrid Elements - Water resistant sealed body options
Available with Slip clutches to avoid potentiometer breakage. Servo & Bushing Mount

RUGGED and COMPACT Design
11A 125, 250 VAC Micro Switches and 4.5 to 5.5 VDC input hall effect potentiometer
Option:1, 2 or 3 axis . Sealed push button handle. Dead Man handle.
Dust proof boot - Mounting foot print 1.9' X 1.9"
Base is 2.7" square