Industrial Joysticks : JS3146 Series : 2 Axis. Too many choices? Call our experts.
Dual axis version:

JS3146 Potentiometer Joystick

Available in one, two or three axises, Up to 6 switches.
Center tapped potentiometer. 5K & 10K ohms.
Friction hold or handle will spring return to center.
With or without dust proof boot.
.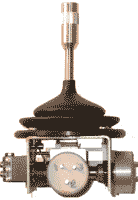 JS3146-SW Potentiometers and Directional Switches

Shown with directional switches and dust proof boot
Two 10K ohm center tapped potentiometers and dust proof boot.